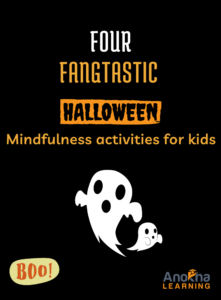 We're cackling with glee. Our cauldron has been busy brewing up some MAGIC POTIONS to keep your little monsters busy! Grab your wands and we'll teach you how to cast some captivating spells that are sure to transfix them...
Mindful movement
Say the magic word and KABOOM you've transformed them into animals. Don't forget to play some spooky music! Try these terrifying moves:
Slithering like a snake
Hopping like a frog
Scuttling like creepy crawlies
Swooping and soaring like bats.
If you're at home, why not have some fun and create your own Halloween Ball? There's nothing little monsters enjoy more than letting loose with the Monster Mash, followed by the Time Warp. See if you can remember all the moves!
Mindful colouring
Print out some terrifying pictures - vampires, pumpkins, creepy crawlies, ghosts, bats, witches and all the things that go bump in the night! Try these free colouring sheets from Twinkl.
Sensory play at home
Now we're going to touch some yucky things. Put some worms (spaghetti) in a bowl and get them to feel the wriggly sensation. Or if you have water beads, pop in some toy spiders and bugs to make it extra creepy.
Mindful breathing
After all that, I think they'll need a nice deep breath to calm down. Trace a picture of a bat in the air. As you draw the bat wings, breathe in and out as you trace the ridges.
Have a go at this cute ghost mindful breathing activity.
Or perhaps you know a little person who would enjoy this pumpkin breathing exercise.
And even though we only promised you four fangtastic activities, we just can't resist sharing this collection of free Halloween related activities from our friends at Planbee. It features gorgeous Halloween colouring sheets, writing templates, word searches and so much more - perfect for home or school!
Do you know someone who would have a spooktacular time with these ideas? Don't forget to share this post!
Marie O'Sullivan, Anokha Learning
Marie O'Sullivan is an experienced teacher and counsellor with an M.Sc. in Child and Adolescent Counselling. She has engaged in a variety of training in the field of Mindfulness, including with Relax Kids, Louise Shanagher and Lorraine Murray. She is also trained in the Confident Hearts Creative Youth Wellbeing and Mindfulness Programme. Marie is a Course Author with Anokha Learning and has facilitated workshops and training for school staff and corporate and community groups.