We are delighted to bring you this Guest Post from Louise Lunney on behalf of ISPCC Childline:
Many of you may have already heard about ISPCC Childline but may be unsure how to access our services. We hope this post provides clarity on the services provided by ISPCC Childline and information on how you can get easily get in touch.
The ISPCC is for children. Our purpose is to listen to them, empower them, strengthen their resilience and enable them to live their best possible lives. The ISPCC provides a range of services directly to children and families and advocates for change to enhance the lives of children in Ireland.
ISPCC Support Line
The ISPCC Support Line provides a confidential listening service, offering information, advice and emotional support to members of the public who contact us on any issue in relation to child protection and welfare. This service is open to anyone who has concerns in relation to children, including family, teachers or any member of the public. This service enables the individual caller to talk over their needs with a professional ISPCC staff member who offers non-judgemental support, information and guidance. The ISPCC Support line can be contacted between 9 am and 1 pm Monday to Friday, by calling 01 243 2000, emailing parentingsupport@ispcc.ie or by writing to any local ISPCC office.
Childline
Childline is a 24-hour national listening service run by the ISPCC for all children and young people (18 years of age and younger) in Ireland. It is private, confidential and non-judgemental and can be contacted for free from anywhere in Ireland. Childline can be contacted by any child or young person by calling 1800 66 66 66, texting to 50101 or chatting online at Childline.ie 24 hours a day, every day. Children contact Childline to talk about any issue on their mind. Some children who contact Childline may feel upset, or isolated, while others simply contact Childline to chat about their day or share their hopes and dreams.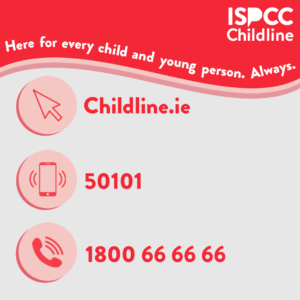 Childline Therapeutic Support Services
Our Childline Therapeutic Support Workers provide free one-to-one child-centred services for children, young people and parents/carers. Childline Therapeutic Support Workers work in partnership with the child, young person or family developing tailor-made plans to meet their needs. This service provides children, young people and families with therapeutic support during difficult or traumatic times in their lives. Referrals to the service are made for support for a wide range of emotional and behavioural difficulties such as parental separation, bullying, low self-esteem and child/parent relationship issues.
Group Programmes/Courses
The ISPCC delivers a range of various group work programmes each year. The group works/courses facilitate a safe learning and supportive environment for participants to develop skills and share experiences. Through the group setting, participants gain social support from peers, as well as an understanding and awareness of relevant issues.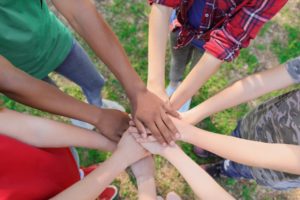 Recent programmes have included:
ISPCC Resilience Group Work Programme
Non-Violent Resistance Programme including Resilience-building for Caregivers
School Talks highlighting the Childline Service
If you would like to find out more about the ISPCC's Childline Therapeutic Support Services, contact ISPCC Head Office at 01 243 2000.
Missing Children's Hotline
The ISPCC's Missing Children's Hotline provides emotional support and advice to young people and adults alike in relation to missing children. The Hotline can be contacted for free 24 hours a day, every day, by calling 116 000. The service is available to take calls from the general public, family members of a missing child and children who are missing.
For further details on other aspects of our work please go to www.ispcc.ie.
Further support and information for children and young people, as well as access to the Childline Live Online Chat service, is available at Childline.ie.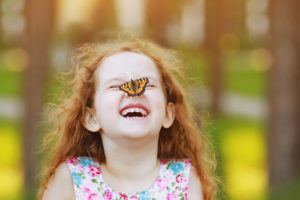 Louise Lunney is a graduate of Maynooth University (BA Psychology). Louise is a Masters Student currently on placement with ISPCC Childline from UCC. Her Masters is in Applied Psychology.