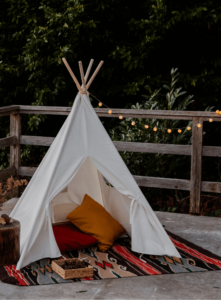 Many thanks to Marneta Viegas, Founder of Relax Kids for the following post:
It is so important for children to have a safe place to retreat to, a place where they can relax and dream so they feel safe and calm.
I remember making a den in the spare room with my little sister. We would get old mattresses, sheets, and cardboard boxes and create this wonderful place where we could relax and chill out. I loved spending time with her in that den. It was the basis for many stories and adventures. We packed a string bag full of oranges and digestive biscuits and would go on an exploration and adventures around the house, always coming back for a well-earned rest and spot of relaxation.
Most children love creating dens and places where they can hide, escape, be alone, or with friends. If you have a spare room, you may like to offer that they create a creativity den in that room or a corner of their bedroom. In the summer, you can hang sheets from the washing line in the garden and take out cushions and blankets to lie on. You could even hang sheets from a tree to create a den, holding them down with stones. Let your child's imagination go wild with large cardboard boxes and old sheets. The main thing is that they create a place that they feel comfortable with.
Once children are in their creativity den, they can play, draw, model, write, paint, or just daydream. Being still and daydreaming is great for your child's concentration and imagination. They will probably enjoy some creative play, especially if they are under 5.
I have had feedback from many parents that the Relax Kids CDs have often increased children's creative play as they have started to enact what they saw in their imagination.
If you are creating a Chillout Corner in the living room, you may like to drape fairy lights or buy some battery operated tealights to create an atmosphere. You could also spray some lavender oil into the room and set up a CD player with headphones.
Try to find a time when all the family can stop and spend a few moments in the Chillout Corner.
8 Activities for the Chillout Corner
Spend 5 minutes giving each other a relaxing shoulder rub
Take a warm drink or fresh juice to the Chillout Corner and have a peaceful drink together, chatting about anything your child would like to talk about
Get some lavender hand cream and treat each other to a relaxing hand massage
Listen to some soft jazz or classical music together
Girls particularly, love having their hair brushed and played with. Spend some minutes brushing each other's hair and giving a head massage
Read a story together (try one of the Relax Kids books), or let your child practice his or her reading in the Chillout Corner
Take in a few breaths together
Stay as still and quiet as possible and listen to the sounds in the room
Listening to Relax Kids in the Chillout Corner
All of the Relax Kids CDs are perfect for the Chillout Corner, but Quiet Spaces or Relax and SLEEP are a great choice as it they are packed with meditations that take children into a deep state of relaxation.
Marneta Viegas, Founder Relax Kids (relaxation classes, books, and CDs and training to support children's mental health and wellbeing).